My Human Is So Stupid...
Have you ever wondered why your cat does something that makes no sense to you? If so, you need to think like a cat. How does a cat think? To answer that, you need to understand the evolution of Felis catus, its lifestyle, its sensory, cognitive and motor abilities, and a whole lot more. Great books to start with are:
Bradshaw, J. W. S., Casey, R. A. & Brown, S. L. (2012). The behaviour of the domestic cat . CABI. Oxfordshire:UK.
Turner, D. C. & Bateson, P. (2014). The domestic cat the biology of its behavior, 3rd ed. Cambridge University Press. Cambridge:UK.
If you can think like a cat, you may find that your own behavior is quite confusing to the cat. For the sake of a laugh, here are some things that I think my cat thinks about my behaviors.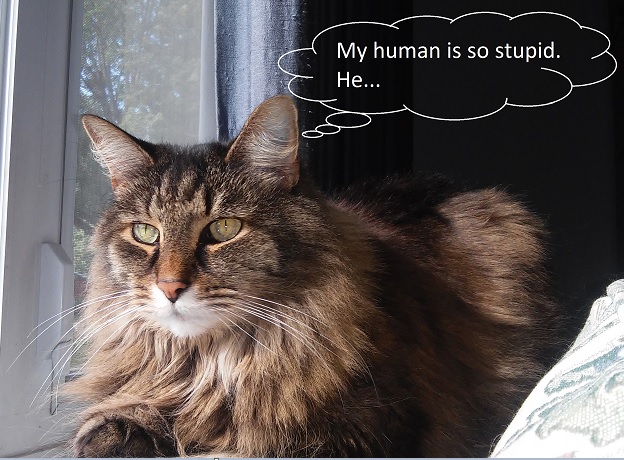 My human is so stupid. He...
eats vegetables and nothing but vegetables -- ICK! (2 Jan 2017). That isn't quite true -- I am a vegetarian but not a vegan. I don't eat meat like my cat is required to. Cats are obligate carnivores (Bradshaw, Casey & Brown, 2014, p. 113). That means that cats must eat meat (or at least a man made food that contains nutrients that are only found in meat). Cats are unable to synthesize essential nutrients such as arginine, taurin and arachidonic acid from plant materials and must get these from flesh or organs. Don't try to make your cat a vegetarian.
doesn't make milk when I knead his tummy. (1 Jan 2017 -- Happy New Year!) Yes, my cat climbs onto my stomach, sticks his front claws in and pulls up, again and again. While it HURTS, it is a sign of affection, and one can't get mad at that. The domestication of the cat resulted in several changes in the species. One of those changes is an increase in neotenous behaviors (Bradshaw, Casey & Brown, 2014, p. 7). Neoteny occurs when an adult animal retains juvenile characteristics, and kneading the tummy is a behavior that kittens engage in. To get the queen (the mother cat) to produce milk, kittens will often knead her belly. Thus, when adult cats do so, they are saying that you are their mother -- a compliment of the highest order. I often explain to my cat that I am not his mother, that I'm a guy and guys don't make milk. But he doesn't seem to listen...
doesn't stay asleep long enough. (31 Dec 2016) I usually get between seven and eight hours of sleep, which is far shorter than what a typical cat does. Bradshaw, Casey and Brown (2012) claim that adult cats sleep about 12 hours per day (p. 47)
doesn't know when he should be asleep. (30 Dec 2016) Most people think cats are nocturnal, but they are actually crepuscular -- being most active just after dawn and just before sunset. Yes, humans and cats have different sleeping patterns, and I'm sure my cat thinks I'm very stupid for sleeping at the wrong times.
doesn't even know when it is cold. Keeping my house at 71° F is FREEZING! Furnace, please run constantly! (Yes, our cat has been known to lay directly atop the furnace vent and purr when the furance runs.) (29 Dec 2016) The thermoneutral zone (the range of temperatures in which cats are neither chilly nor warm; technically, the range of temperatures that an endotherm's heat production is in equlibrium with heat lost to the environment) of cats (86 to 100° F) (Turner & Bateson, p 198) is higher than it is for humans (64.4 to 71.6° F for a person with light clothing on). What is comfortable for us is chilly for them.
thinks that his minty breath smells great. Mint -- ICK! I can't pull my nose away fast enough. If he wants great smelling breath, why doesn't he gargle with water from a can of tuna! (27 Dec 2016). Yes, a cat thinks that a good source of protein smells great. Feral cat eat about 52% of their calories as protein (Bradshaw, Casey & Brown, p. 113) and 0% of their calories as mint (that is just my guess). After all, cats are obligate carnivores.
cuts his whiskers off each morning! (26 Dec 2016). In cats, whiskers, or

vibrissae

, connect to sensory receptor cells at their base. These sensory cells encode information about the direction and rate of displacement of each whisker. This sensory information is used when there is very low or no light to help the cat know where it can move. The mystacial vibrissae (the cheek whiskers) are pulled forward when the cat is capturing prey to help the cat sense the prey's position. When the prey is directly in front of the cat's mouth, the cat's vision is often blocked by the snout (Bradshaw, Casey, & Brown, p. 20).
brought a nice tree into my house for me to climb, but then gets upset when I do so. (25 Dec 2016). Cat's claws are

protractable

(Bradshaw, Casey & Brown, p. 14). This means that they are normally sheathed, but are definitely unsheathed when climbing the Christmas tree.
voluntarily sprays water all over his body every morning. Licking is so much better. (24 Dec 2016) Cats spend about half of their time awake, and of that awake time, about 10% of it is spent grooming (Bradshaw, Casey & Brown, p. 47). That is almost one and a quarter hours per day spent grooming.